February 2nd has celebrated World Wetlands Day since 1997 to raise awareness of the importance of wetlands and the threats facing wetlands on a global scale. This date is the anniversary of the Ramsar Convention on Wetlands (1971), an intergovernmental treaty that provides resources for national action as well as international action to conserve and restore wetlands.
In 2022, we celebrate World Wetlands Day, for the first time, as a United Nations International Day – the UN has recognized the importance of wetlands on an international level as especially significant. Celebrating World Wetlands Day helps raise awareness about the importance of wetlands on a global level.
Why do we need to raise awareness? The world is loosing wetlands to development/impacts three times faster then forests and over 90% of the world's wetlands have been lost or degraded. Wetlands are important for so many reasons: ecological, economic, climate mitigation, and recreation and enjoyment.
Wetlands Action for People and Nature: the theme of 2022 which highlights that ACTION is needed – only through action to protect and restore wetlands today, can we be sure of sustainable human use of wetlands that protects the health of the Earth.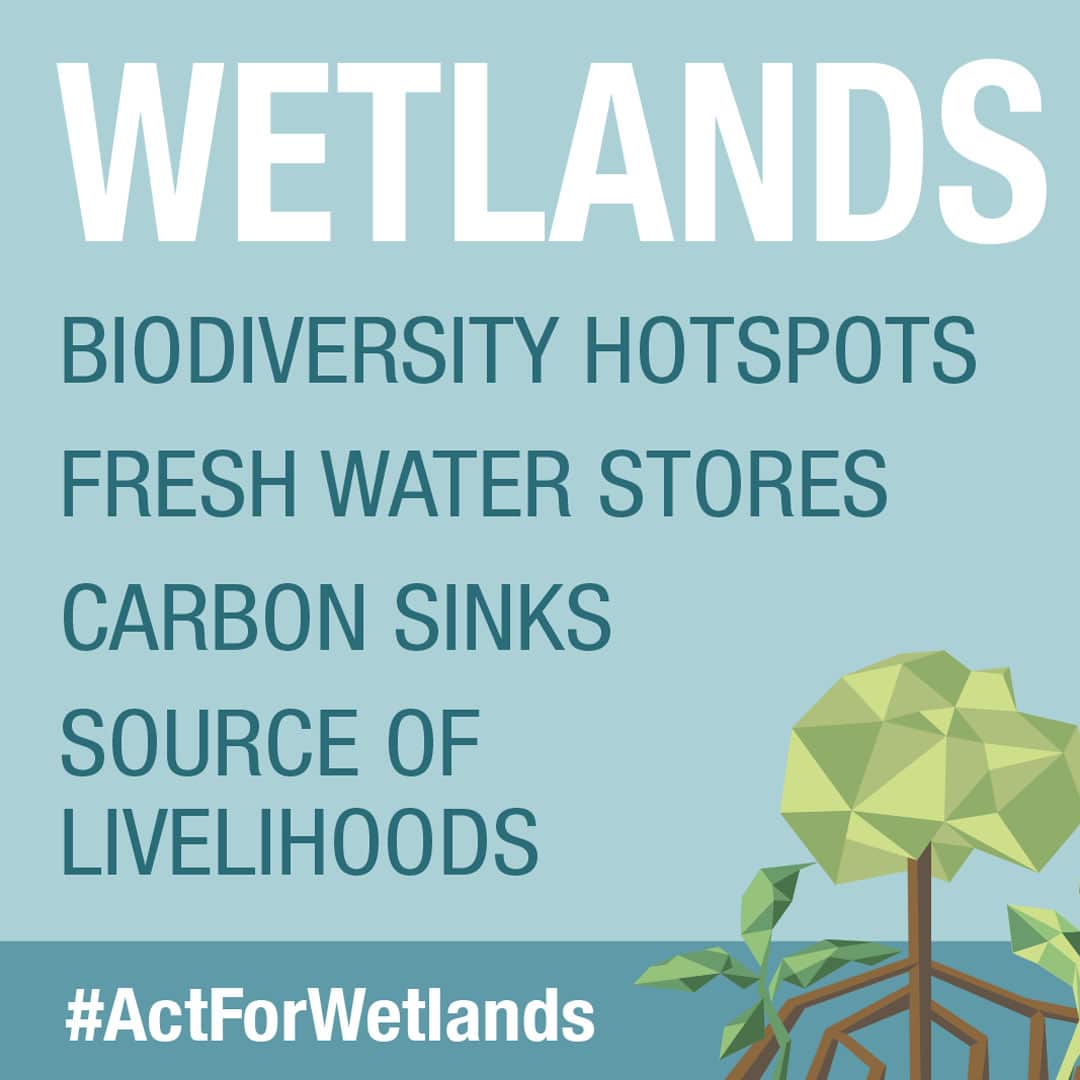 Wetlands provide and protect life around the plant from hosting over 40% of all global species, to providing the economic livelihood of 1 billion people. On Nantucket, our fisheries rely on healthy salt marshes to provide fish and shellfish nurseries.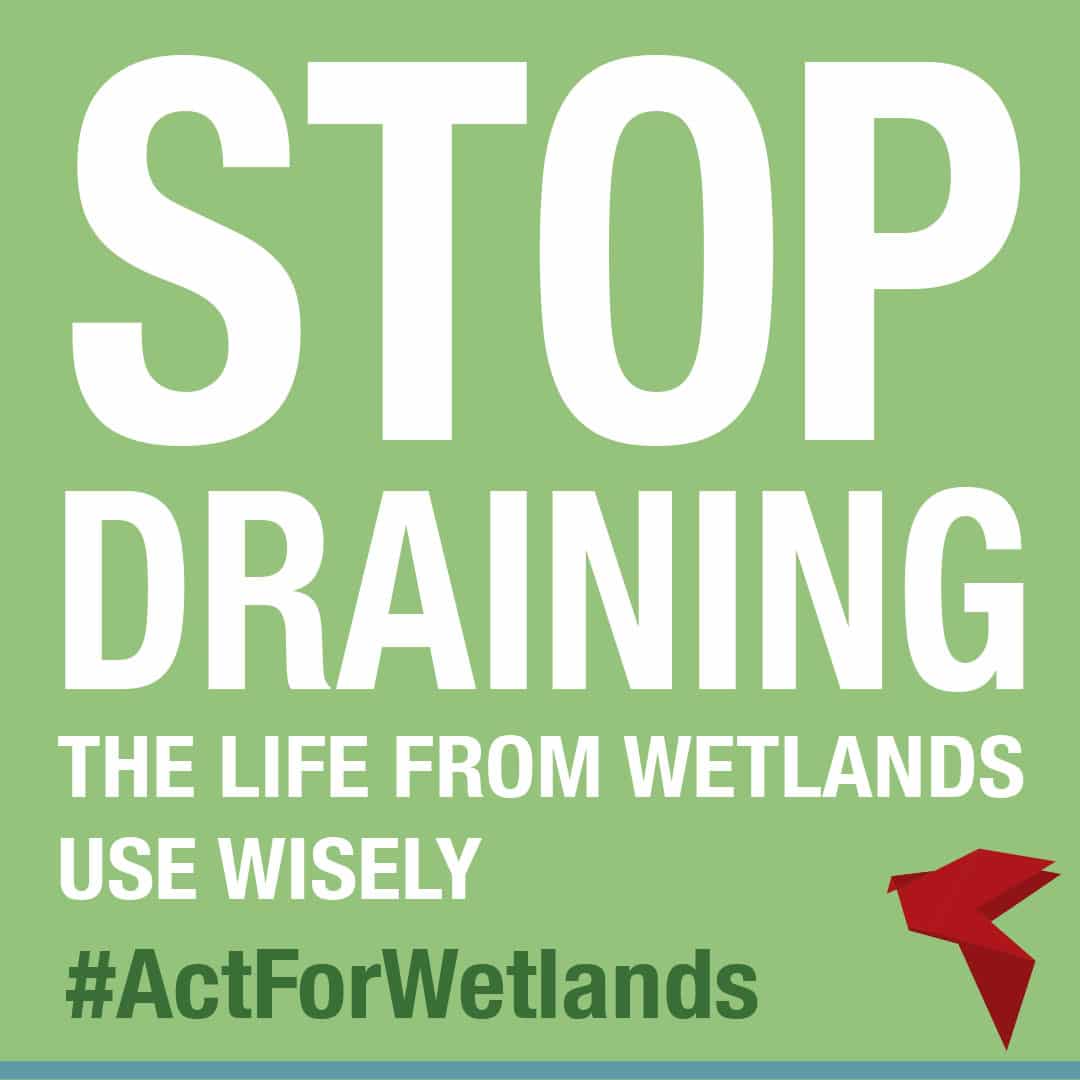 Wetlands provide one of earth's most powerful tools to manage climate change. Coastal wetland provide buffers protecting communities from sea level rise and storm surge. Peatland wetlands store more carbon than any other ecosystem on earth. ~90% of all hazards are related to water and wetlands provide the natural buffer to reduce those hazards.
On Nantucket, our salt marshes are the first line of defense, protecting our homes and shoreline roads from storm impacts. Plans to protect, enhance and create functioning coastal wetlands are one of the primary ways Nantucket can increase our coastal resilience. Check out the Nantucket Conservation Foundation's oyster reef project, installed November 2021 and designed to protect and enhance a salt marsh in Polpis Harbor!
Wetlands Action for People and Nature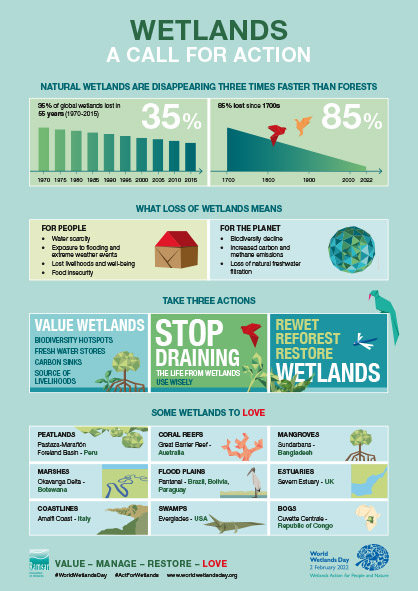 How can you respond to the Call to Action and raise awareness and protection for wetlands?
On Nantucket:
Check in with your landscaping: add more native plants and reduce fertilizer use and over watering. Consider converting some lawn into native gardens! Why? Excess fertilizer can dramatically harm wetlands, causing increased harmful algae blooms and killing wetland plants
Support your local Conservation Commission which is in charge of protecting wetlands from impacts and development on island.
Support local conservation groups which work to protect wetlands – see the bottom of this post for information on supporting the Nantucket Conservation Foundation.
Check out the Town of Nantucket's Coastal Resilience Plan, recently accepted by our Select Board, and learn about actions you can take and actions the Town might need to take to protect wetlands in order to protect Nantucket.
Learn and share – the more you learn and the more you share what you learn, the more people will be aware of the wetlands around them.
Get out there and enjoy our wetlands! Visit the Creeks to see the beauty of a salt marsh, hike through the Middle Moors and check out the Pout Ponds, in warm weather grab a kayak and explore the hidden corners of Hummock Pond. Nantucket has amazing and beautiful wetlands to explore and LOVE!
Virtual Resources
The Nantucket Conservation Foundation is a private, non-profit land trust that depends on contributions from our members to support our science projects, conservation property acquisitions, and land management efforts. If you are not already a member, please join us!