The era of quarantine has us cooped up and dreaming of sunny days with loved ones, gatherings to celebrate the change of season, and times when accidentally bumping into a stranger in Stop & Shop didn't fill us with existential dread. Cabin fever is real and the best way to combat it is to responsibly spend some time in the fresh air. Lucky for us, the Nantucket Conservation Foundation has spent the last 57 years protecting open space in our community for you to do so! A good friend shared a phrase with me recently that has helped me to combat cabin fever, "Move a muscle! Change a thought!" Take a walk, ride, paddle, run, etc. to clear your head and reset your mood. You can even skip if you want to (#nojudgement for all skippers >10 years old). As long as you can remain safe, respectful, and socially distanced then get outside and find some clarity and calmness.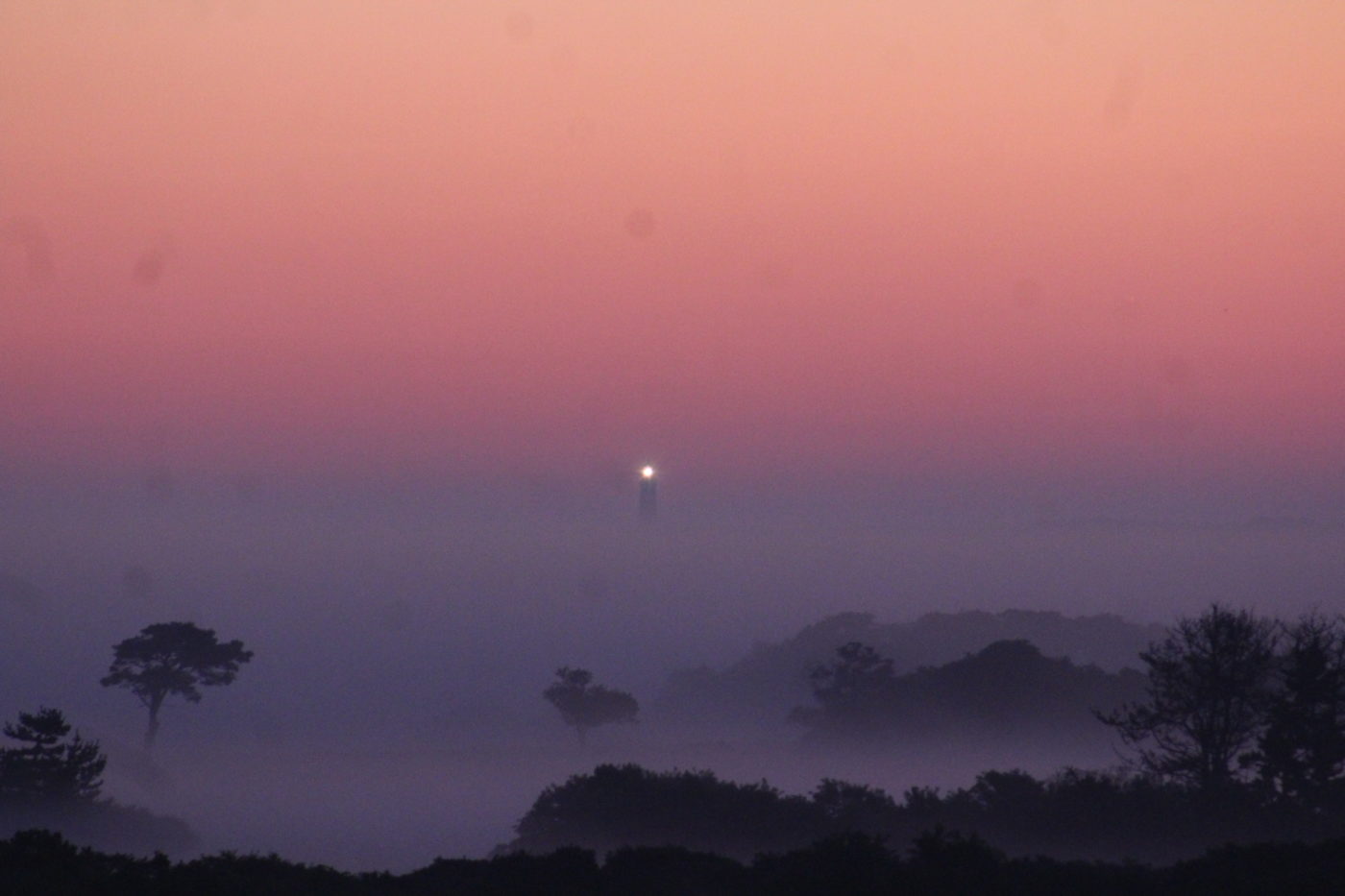 Lately, we've seen a lot of increased usage on our properties across the island. The trail heads and parking lots are active with people trying to enjoy popular parts of Nantucket or explore new trails that they've never been down. We have put up some new information and resources for visitors to appreciate the story of land conservation on Nantucket and the ecological balance that NCF helps to steward on our 9009 acres.
Brand new kiosks have been placed at some of our popular properties across the island. These signs showcase some plants and animals of note, educate about the habitats protected within each parcel, and speak for the cultural history that shaped Nantucket. The kiosks are double sided with one side en español para que todos puedan aprender y descubrir nuevas partes de nuestra comunidad. Be on the lookout for these Cranberry-colored kiosks at our trail heads and parking lots.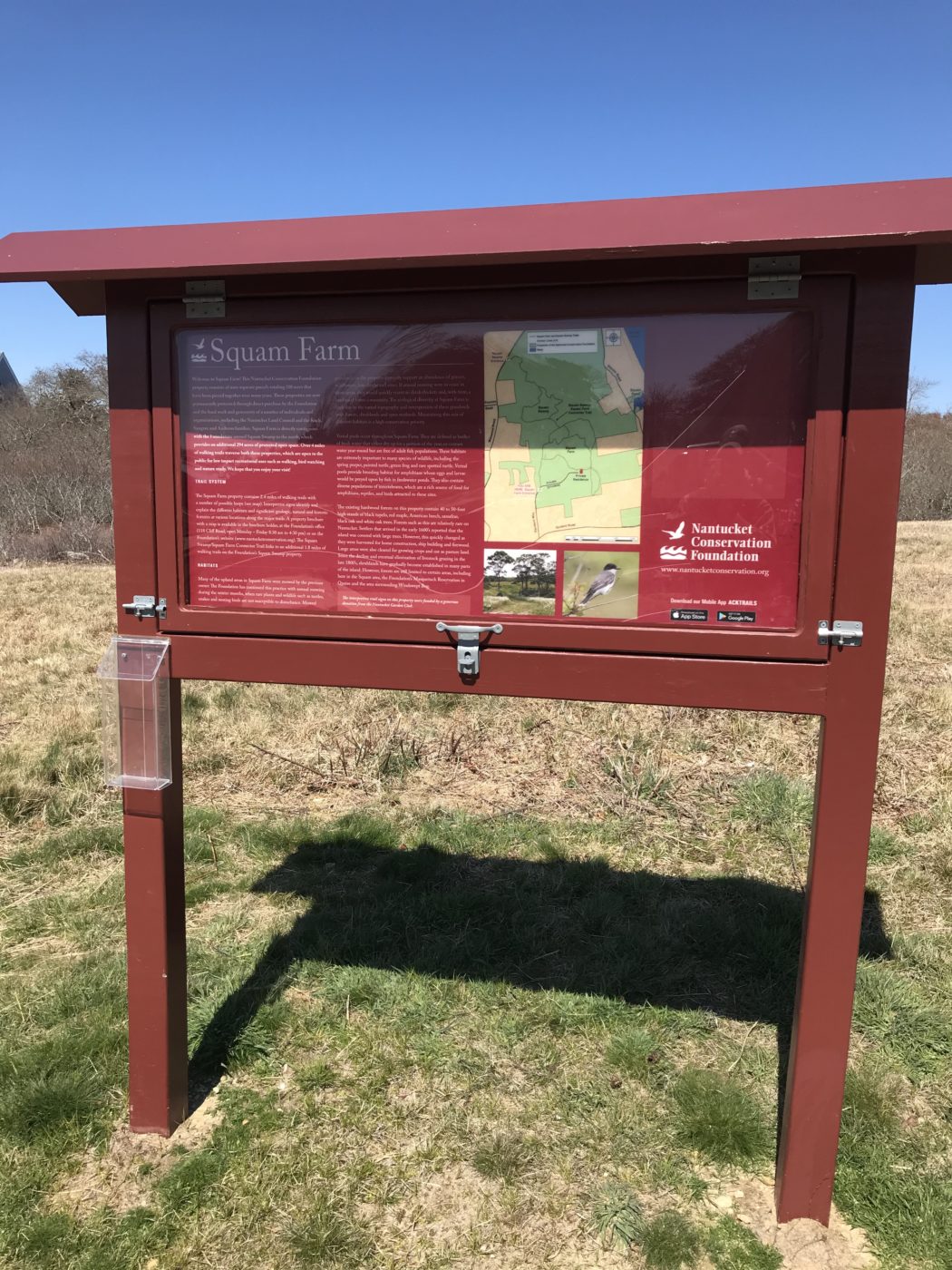 If you like to plan ahead and look up your next expedition, download ACK Trails! It's our free trails app on the App Store and Google Play Store. We currently have 31 trails on 12 different properties ranging from the sandy rolling hills of the Middle Moors to the flat grasslands and beaches of the south shore. Each trail has Points of Interest along the way so you can brush up on the ecological, cultural, and natural history understanding of the island. We have also built in driving directions, bus route planners, and parking lot locations to help you get to each trail head. Some fantastic new trails went up recently to guide visitors through Masquetuck and Head of the Plains! We will continue to update the trails and information contained within the app, but it's a great resource to see and experience something new in your neighborhood. Very family friendly and good for trail explorers of all ages!
Lastly, our dedicated land management department is trying its best to keep up with the increased property usage by maintaining and protecting our trails and roads. This team of locals and long-time residents does an amazing job, but they need you to help by doing your part. If you are out and about on the properties owned by NCF or our partner organizations (Linda Loring Nature Foundation, Nantucket Land Bank, Mass Audubon, Trustees of Reservations, or the Town of Nantucket), please follow these common sense rules:
~ Maintain 6 feet of social distancing and wear a face mask to reduce further spread of this virus. Our health care workers and vulnerable citizens will be better for it.

~ Do not forget to put some doggie bags in your pocket to clean up after your pooch. Dog poop is a real problem for people, pets, and water quality and it doesn't take much effort to be a responsible owner. Plus, your dog doesn't have thumbs to pick up after itself!

~ Don't trash the place! Clean up your trash and don't push your problems on someone else to clean up. If you pack it in, then pack it out!

~ Be respectful of plants and wildlife on our properties. These open spaces provide habitat for many threatened and endangered species. Don't abuse, collect, disturb, or destroy other living things just for your own amusement.

~ Finally, BE KIND TO EACH OTHER! We're all going through a tough time in this global crises and we need to be forgiving and good to our neighbors and community members. Be the better person and help keep spirits high. We will get through this some day and every act of kindness is a blessing.