There are many indicators of spring finally arriving on island. One of Nantucket Conservation Foundation's favorite indicators is the sight of our migrating birds, especially the American Oystercatchers, returning to their resident nesting areas. An American Oystercatcher is a very charismatic, medium-sized shorebird that is dressed to impress with white undersides, brown wings with white wing bar, black head, and is paired with a bright yellow eye, striking orange-red bill, and pink legs.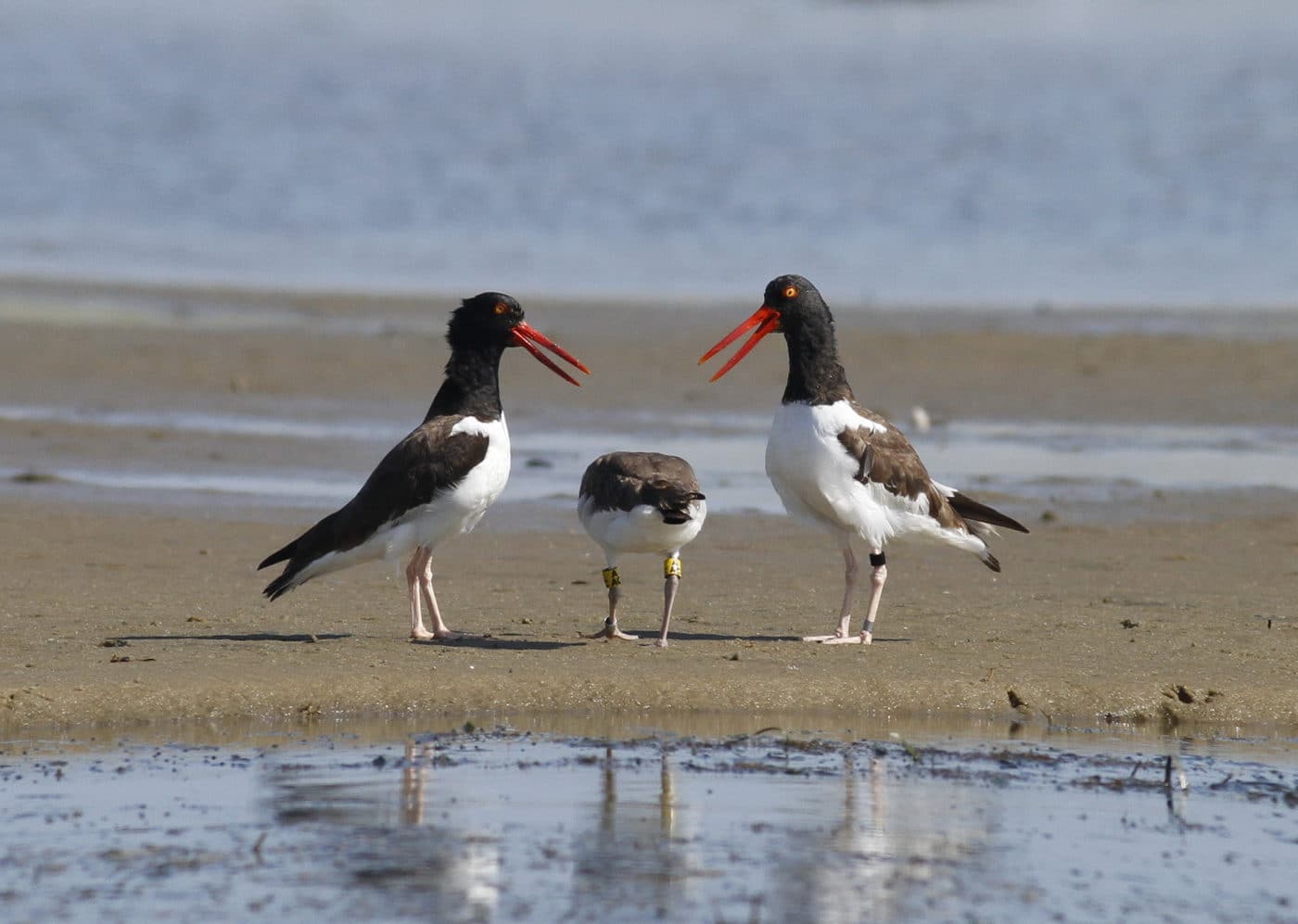 American Oystercatchers love to nest on Nantucket beaches. For many years we had the highest breeding population in the state of Massachusetts. As of last year, our neighboring island took the title with 55 pairs where we had 33. The American Oystercatcher was one of the key shorebirds that sparked the creation of the Shorebird Conservation Plan back in 2000. After many different surveys, the population size was determined to be 11,000 individuals for the entire east coast. As they are a beach nesting bird, this species was projected to keep declining due to habitat loss, human disturbance, and predation. With that prediction, the American Oystercatcher Working Group was formed which is now comprised of over 40 organizations along the Atlantic Coast.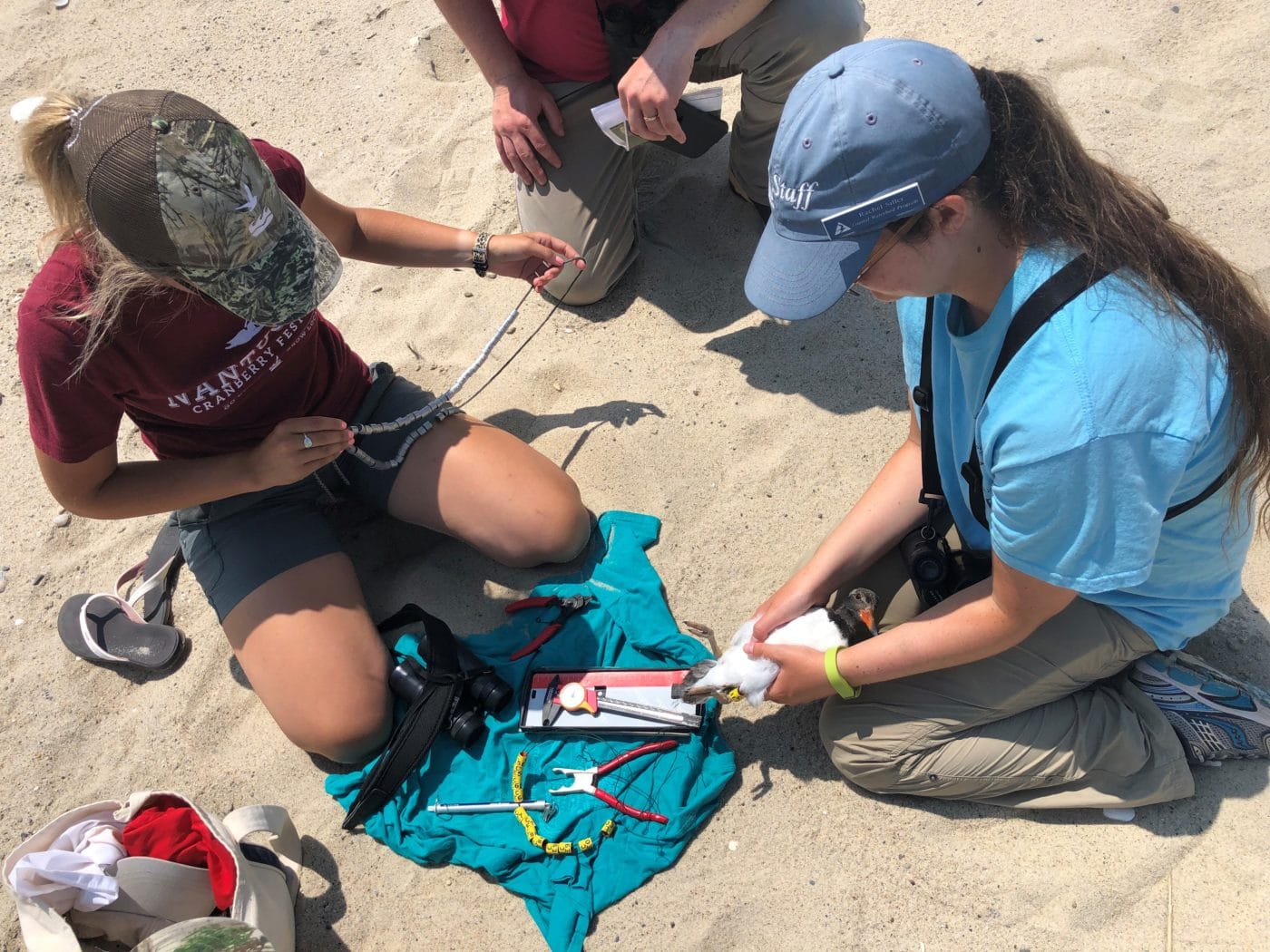 The Nantucket Conservation Foundation has been an active member of the working group since 2005, and since our beaches are home to the nesting birds, we are able to participate in the banding and re-sighting project that happens all along the coast. Every year we will band the chicks with a unique field readable yellow band on their upper leg. This is one of the best ways of collecting the data because we only need to capture the bird once, place a band on their leg, and they will have it for the rest of their life. The bands have been tested and fitted to make sure that it will do no harm to the birds. It's just like wearing a bracelet that they forget is even on. The color of the band represents what region the bird is banded in, yellow signifies Massachusetts. Anyone can help with this research by reporting the bands here: www.amoywg.org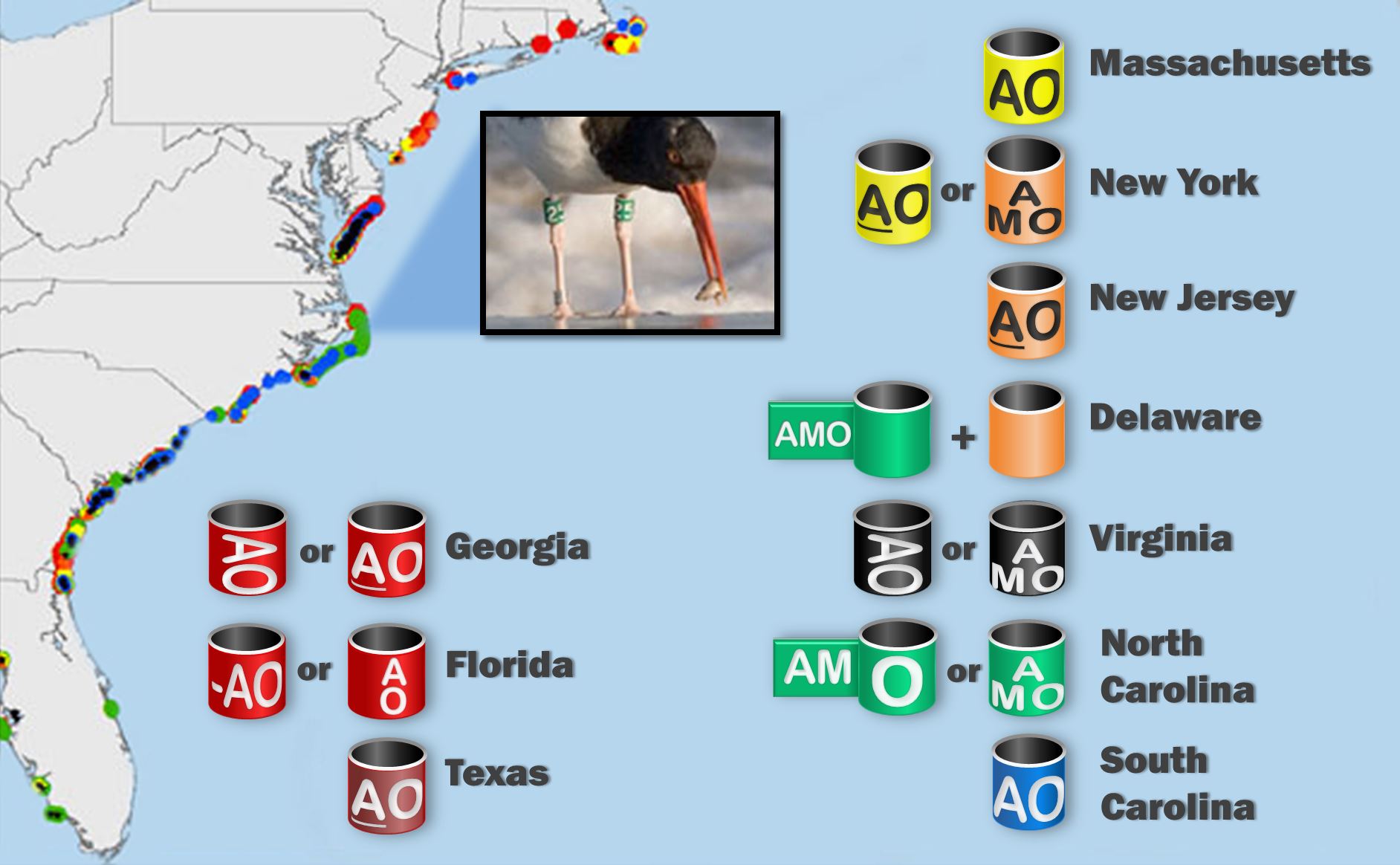 By reporting these re-sights, you not only help answer the big population status questions, but it also creates the story of the bird's movements. Some birds are very predictable while others remain a mystery, which adds to the excitement of seeing who comes back every year. Below is a couple of highlighted individuals and their stories:

Yellow F2: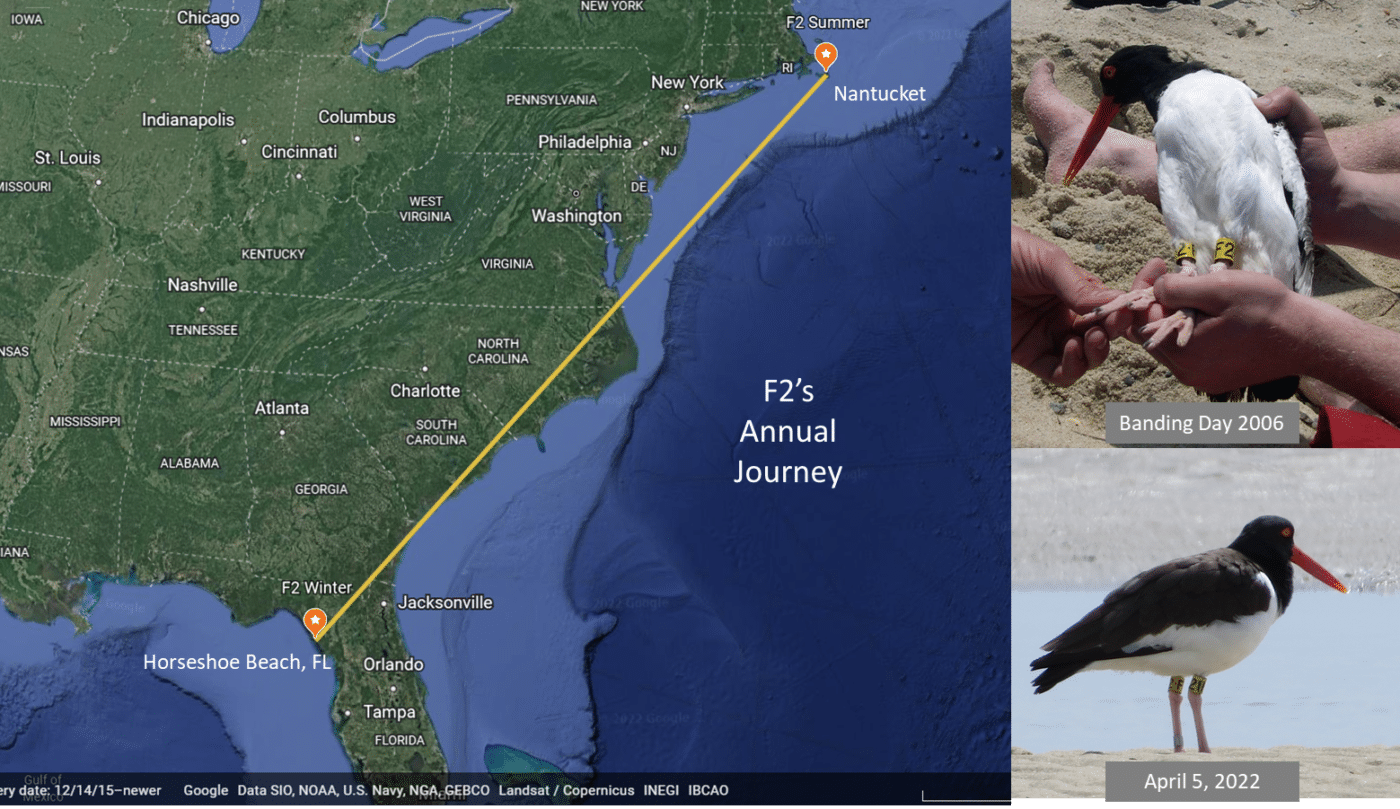 F2 was originally banded in 2006 as a breeding adult, this year he will be at least 19+ years old! (Banding them at the adult stage means they're at least 3 years old). He's a very predictable bird. He likes to spend his winters in Horseshoe Beach, Florida, and his summers with us in Polpis Harbor. Without fail he comes back every year. He's had many offspring over the years, and we are happy when he makes his appearance.
Yellow CEX & CE2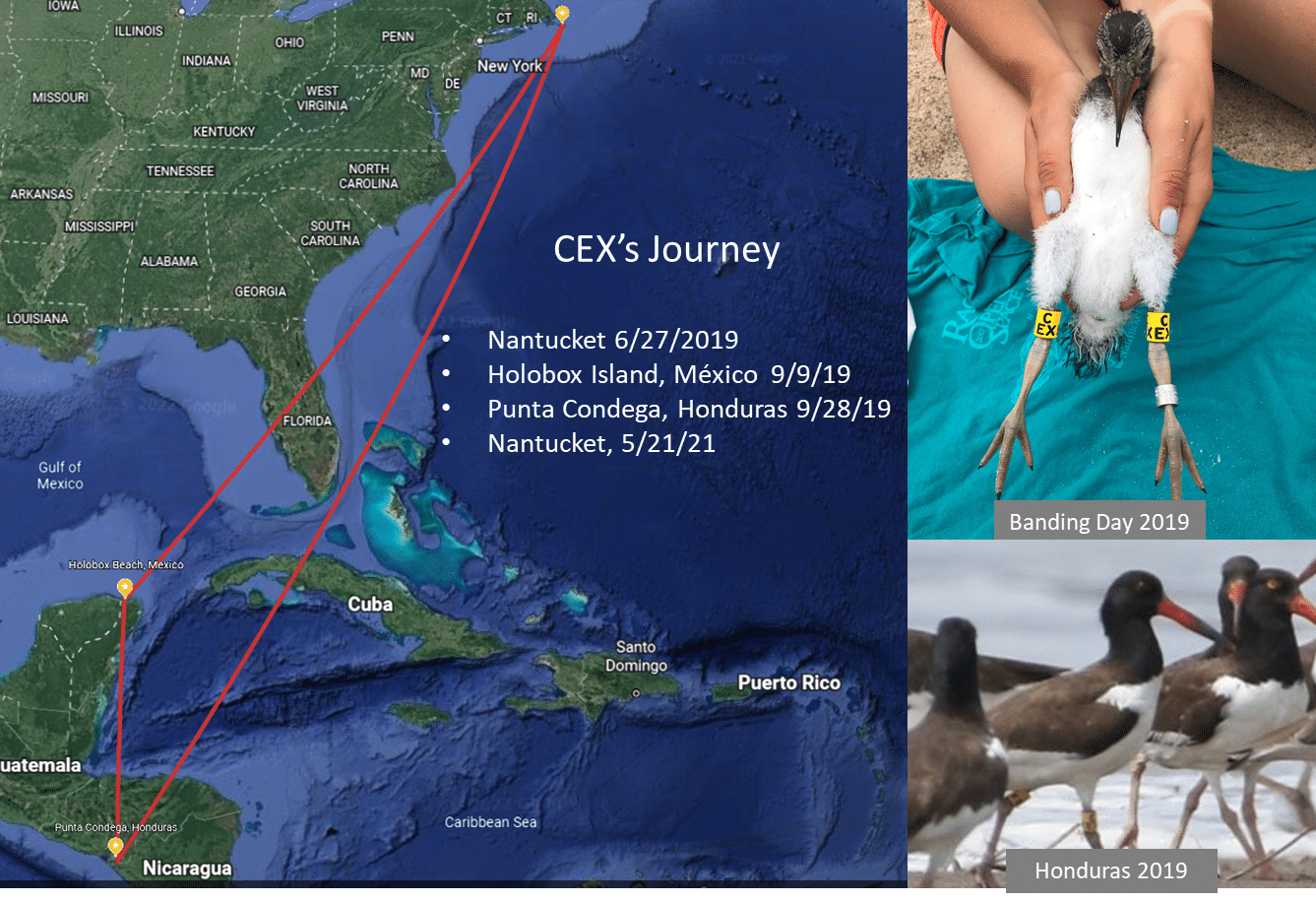 CEX & CE2 were siblings banded in June 2019 and they have become quite the explorers traveling into international waters. CEX after fledging was then reported on Holobox Island, Mexico on 9/9/19 and then Punta Condega, Honduras on 9/28/19 and was seen on Nantucket on 5/21/21. CE2 decided to take its time and travel from Cape Hatteras in 5/12/21, and then to Punta Negra Lake, Belize in 10/31/21. CE2 hasn't been seen back on Nantucket yet, but we hope for its reappearance any day now!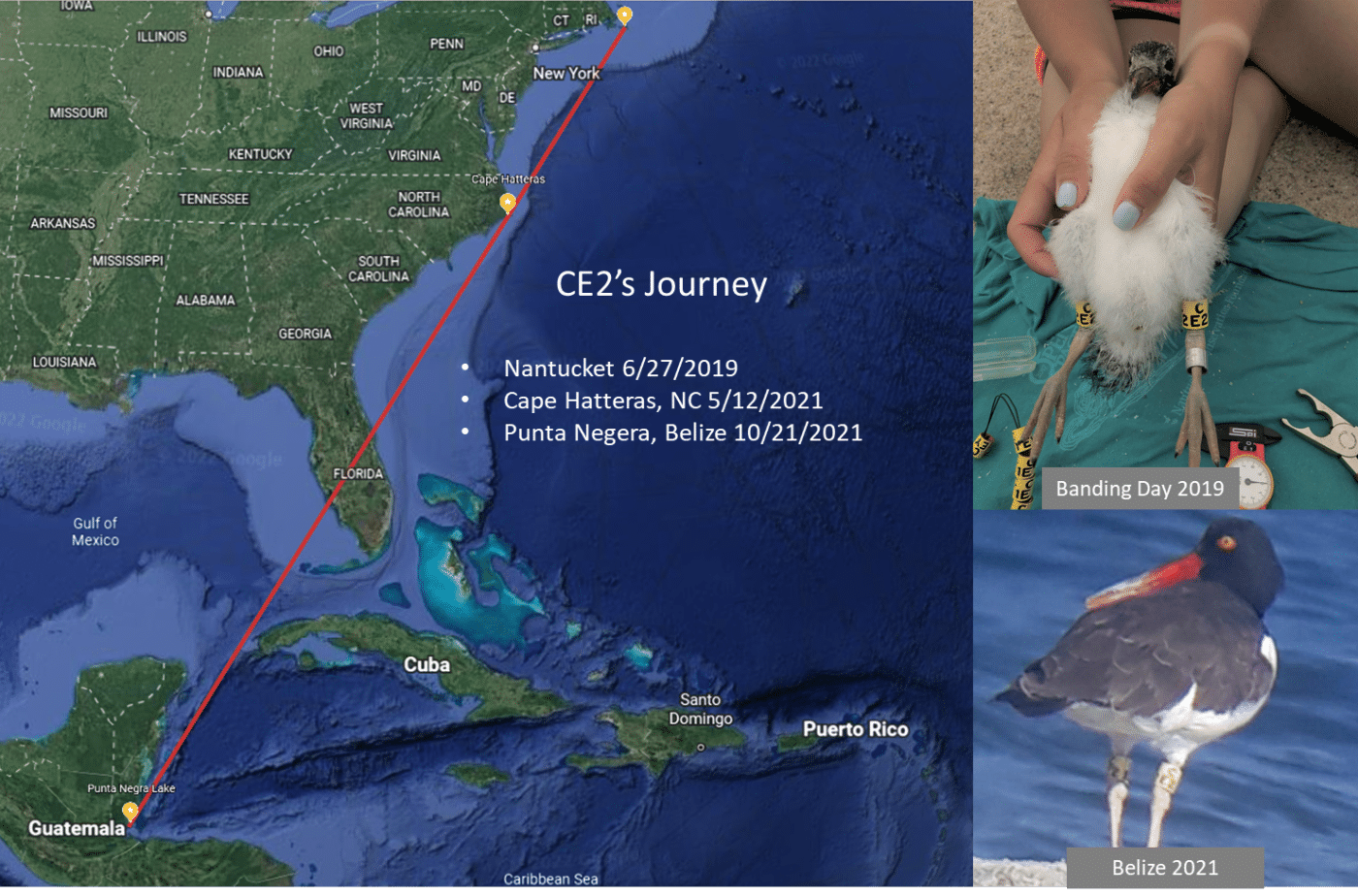 I hope this inspires everyone to join in on the fun and help report these banded birds. You can spot these birds with binoculars or spotting scope. Taking a picture of the bird is best for record keeping and report where you saw it to the American Oystercatcher Working Group. As you are out on the beaches, please be respectful of the symbolic fencing and beach closures that are put in place to help with protecting these birds and their nesting habitats. Just remember your sighting could be extremely important so check every bird for bands!
For more information on the American Oystercatcher Working Group, please visit: http://amoywg.org/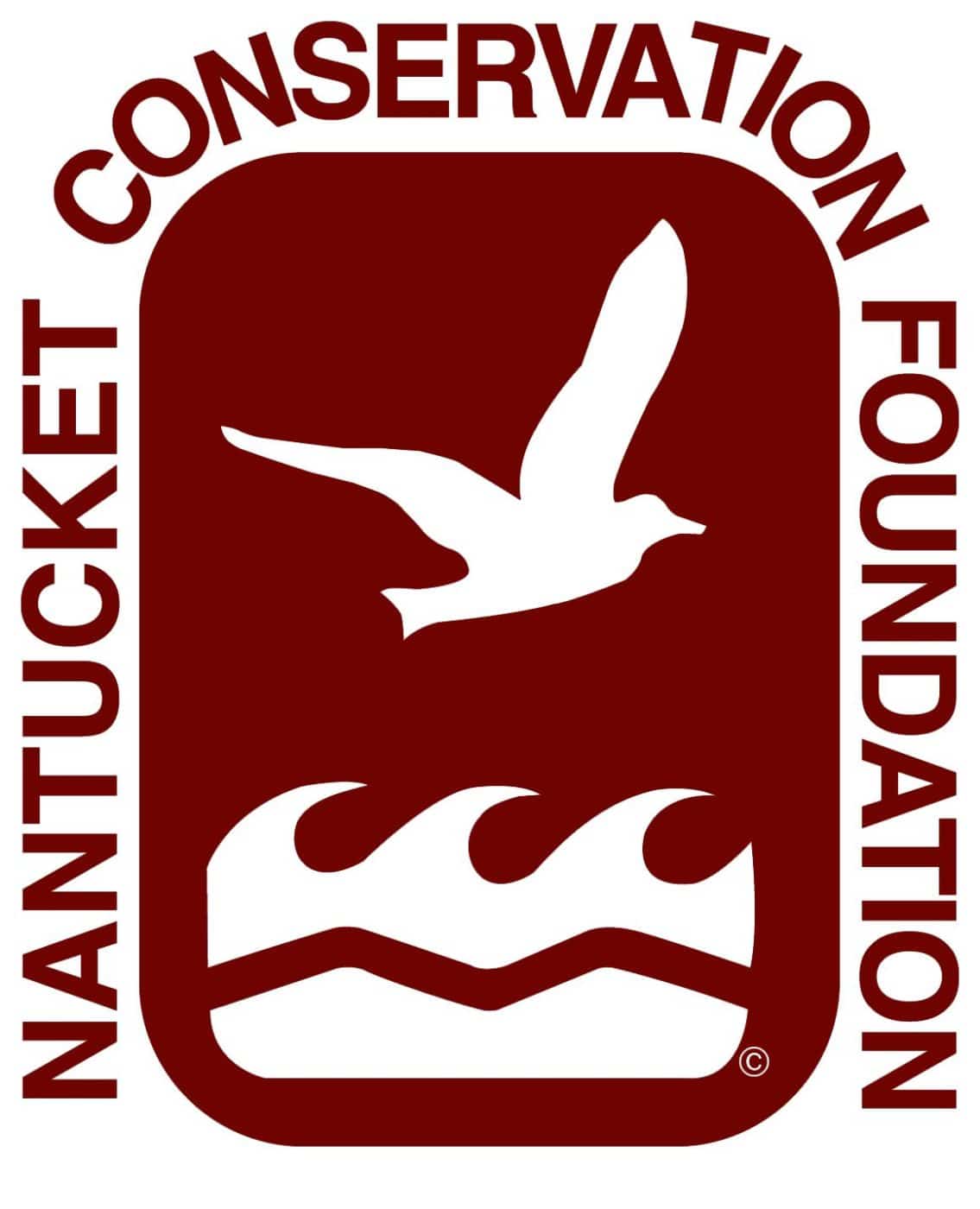 The Nantucket Conservation Foundation is a private, non-profit land trust that depends on contributions from our members to support our science projects, conservation property acquisitions and land management efforts. If you are not already a member, please join us now! www.nantucketconservation.org