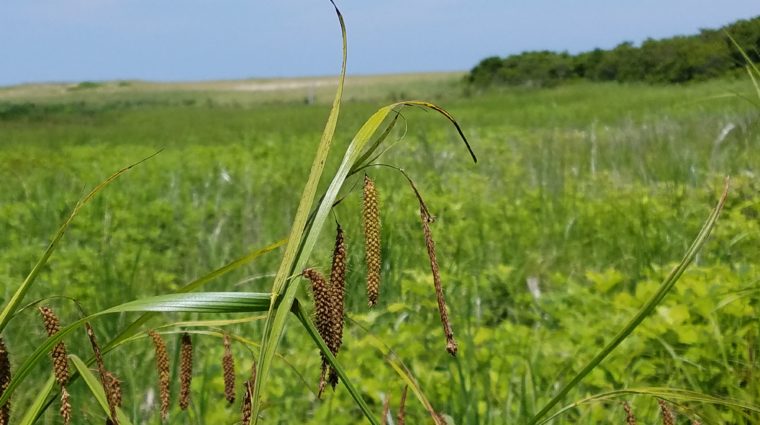 Nantucket Sedge ID Workshop: June 24-25th, 2019
Join us for a workshop led by Lisa Standley, an environmental consultant and plant taxonomist and author of Field Guide to Carex of New England. Day 1 (June 24) will include lecture and discussion focused on sedge family (Cyperaceae) taxonomy and ID characteristics in the UMass Boston Nantucket Field Station Lab. Day 2 (June 25), we will visit various island field sites to view plants in their natural habitat and practice field identification.
Workshop Fee: $60 per person.
Skill level: This workshop is intended for established botanists who'd like to gain more experience keying out this challenging group of grass-like plants and learn more about their natural history. Please bring a bag lunch both days. Limited housing may be available at the UMB Nantucket Field Station condos at Gouin Village upon request. Transportation for field trips will be provided. This workshop is co-sponsored by the Nantucket Conservation Foundation, the Linda Loring Nature Foundation, and the UMass Boston Nantucket Field Station.
Click here for the Nantucket Sedge Workshop Registration Form
If you are interested in housing at the UMB Nantucket Field Station condos during the workshop, please visit: https://www.umb.edu/nantucket/facilities_rental
Other housing options include:
Star of the Sea Youth Hostel: https://www.hiusa.org/hostels/massachusetts/nantucket/nantucket
AirBnB Nantucket Accommodations: https://nantucket.net/lodging/