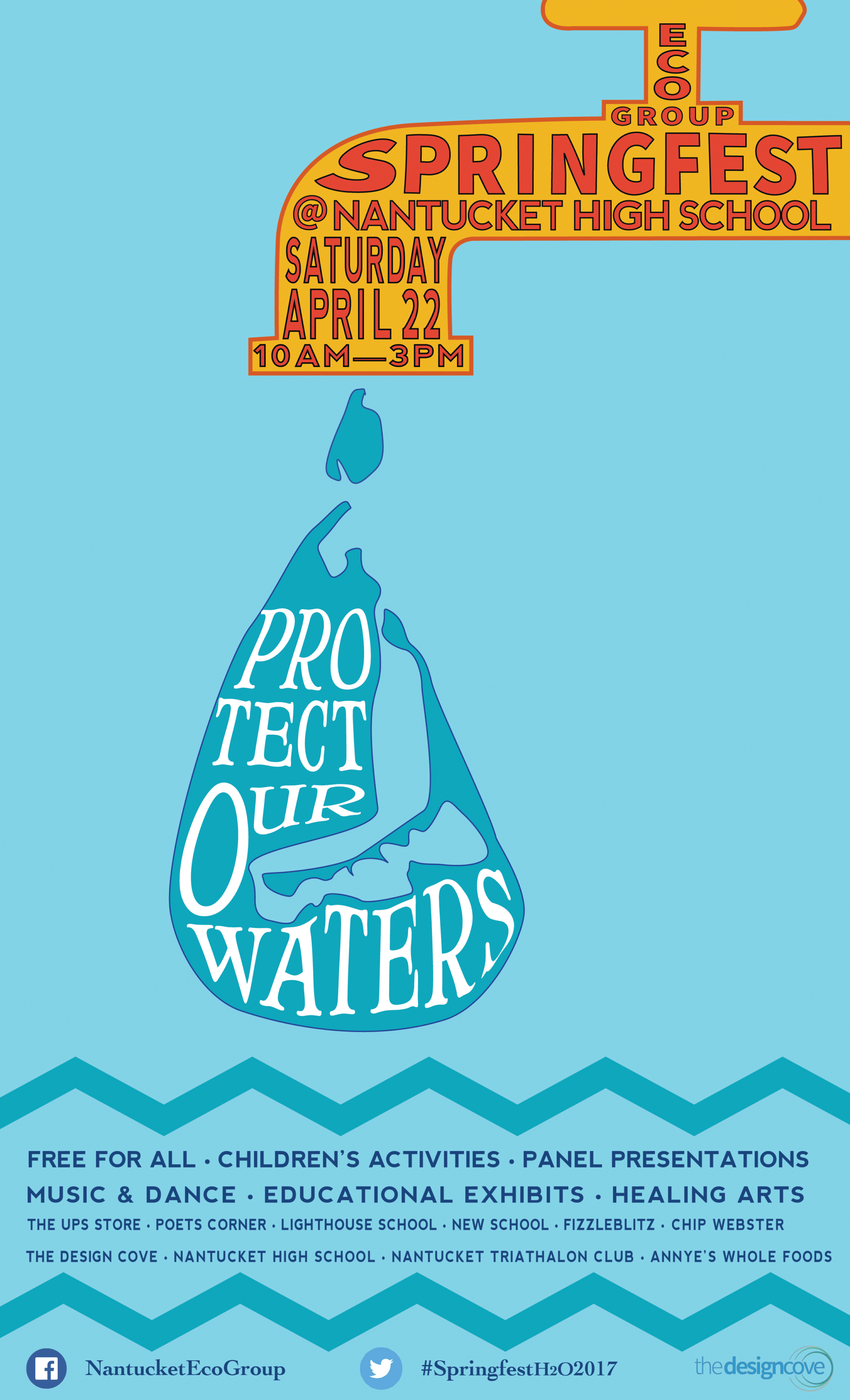 Earth Day 2017 (Saturday, April 22nd) is shaping up to be an interesting one, as people around the world come together to support both environmental awareness and science. While there isn't an organized "March For Science" event planned for our island, Nantucket Eco Group is presenting the second annual Spring Fest event that day, with field trips to sites around the island the following day (Sunday, April 23rd). The theme of this year's Spring Fest, which is free and open to the public, is water.
Surrounded by saltwater and sipping (or guzzling!) our drinking water from a perched freshwater aquifer below, life on and around our tiny island depends on clean water. That's true everywhere, of course, but being a bit isolated and surrounded by seawater makes it even more obvious here! Land conservation by the various island organizations and the town has reduced development, buffering our water resources from pollution and maintaining vital wildlife and plant habitat. But there is a lot that still needs to be done.
No matter who you are, whether you are a visitor or a resident of Nantucket, there is something you can do to help protect our waters. Nobody wants our beaches closed due to contaminated runoff or choked with trash that can kill marine wildlife. Nobody wants the bay scallop fishery to vanish without a trace. Come to Spring Fest to learn about what you can do. There is also still time to sign up as a volunteer to help out the day of the event, too.
Spring Fest welcomes all community members to celebrate and protect Nantucket's unique waters. Join in to learn about what you can do in your backyard to reduce pollution and ocean trash and protect our drinking water, ponds, and harbor. This year Spring Fest will be held at the High School at 10 Surfside Road, with ample room for presentations, exhibit tables, a healing arts room, and a space set aside for fun hands-on activities for children in addition to puppetry and singing. Check out some Photos from 2016 Spring Fest, which was a great success at the Cisco Sanctuary — even under tents in the pouring rain. Panel discussions with local experts on water quality issues and what you can do in your backyard will help you learn what you can do to improve our water quality on Nantucket. Local conservation groups and the town need your help on these issues, we can't go it alone.
Here's the planned schedule (with some possible minor changes the day of). Please bring a bag lunch or plan to visit one of the nearby local restaurants at lunch time and return to the event. Note that field trips are the following day– details and sign up for field trips will happen at the event.
PRESENTATIONS AND ENTERTAINMENT
10:00-10:30 – Opening and Meditation
10:30-11:00 – "The Last Bay Scallop" film
11:00-2:00 – Panel: Water Quality on Nantucket
12:15-12:30 – Musical Performance (Nick Hayden/Nigel Goss)
12:30-1:00 – Student Musicians Steamship Authority Band
1:00-1:30 – New School Student Water Quality Project Presentation
1:30-2:30 – Panel: Backyard Landscaping Solutions to Protect Water Quality
2:30-2:50 – Student "Litter-acy" Short Films
2:50-3:00 – Closing
Children's Room Activities:
10:30-11:00 – Puppet Show
11:00-11:30 – Sing Along
1:15 – Children's Yoga in the Healing Arts Classroom (see below)
Healing Arts Room:
10:30-11:00 – Monika Rudnicka – Organic Skin Care
11:15-11:45 – Lama Yeshe Palmo – Buddhist Meditation
12:00-12:30 – Sunny Daily – Pregnancy and Childbirth
12:45-1:15 – Cate Raphael – Guided Meditation
1:15 – 1:45 – Children's Yoga
Field Trips the Next Day (Sunday April 23rd):
9:00 AM – Shellfish Propagation Lab Tour
10:00 AM – Pond Opening Ecology Hike at Hummock Pond with Peter Brace
11:00 AM – Tour of Wastewater Treatment Plant
12:30 PM – Permaculture & Mushroom Cultivation with Alden Lenhart