by Dr. Jen Karberg, Research Program Supervisor
As we dive into the warm steamy months of summer on Nantucket, we are also approaching the season of harmful algal blooms in our freshwater ponds. Algal blooms have made headlines in recent years as concerns have increased over harmful impacts to pets and humans. What should you look for when visiting a pond in the summer?
The first rule of thumb is to check the water before diving in or letting your pup dive in! Warm summer days provide ripe conditions for active algal blooms and erring of the side of caution is always encouraged.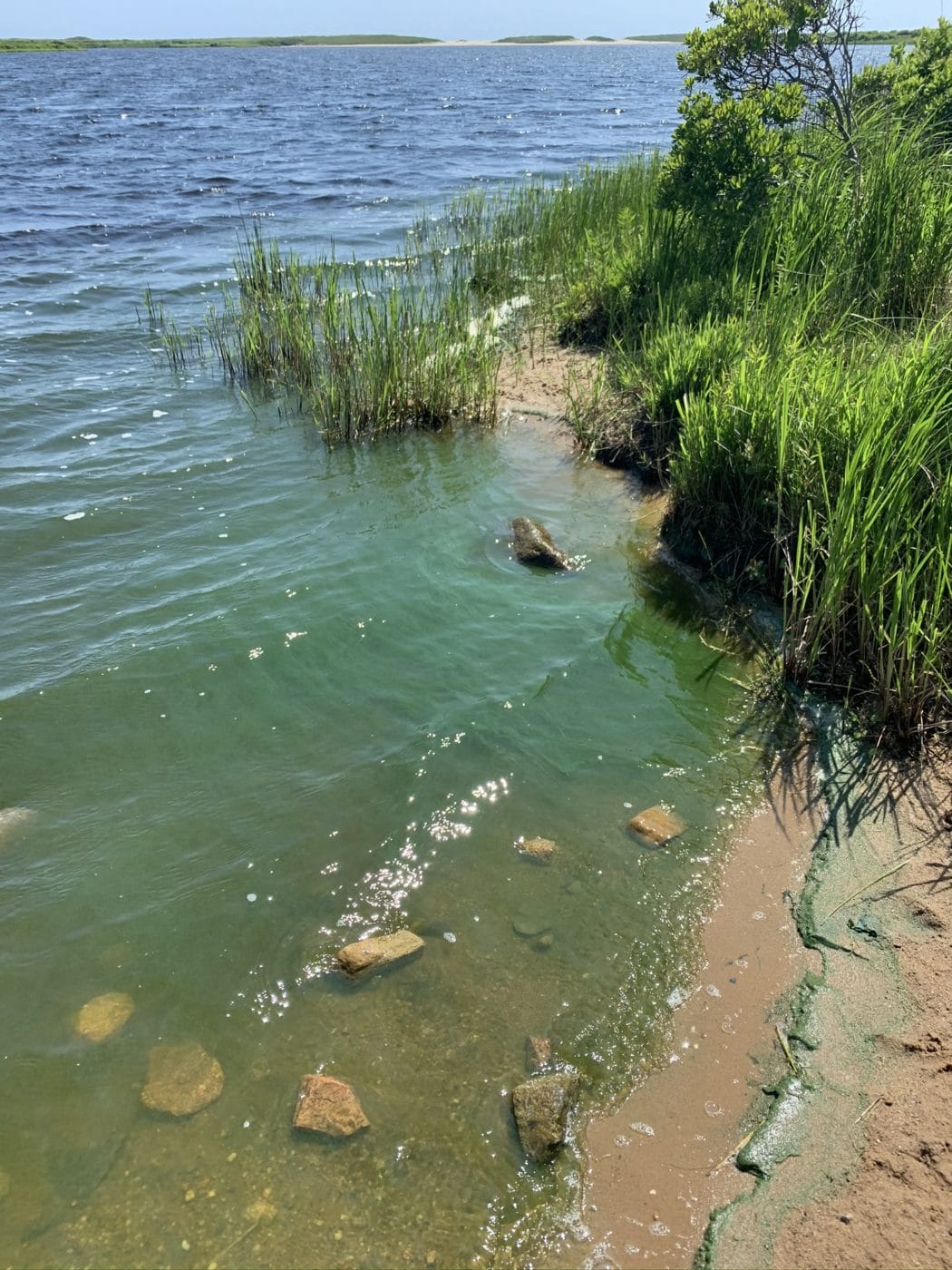 To help, in 2020, the Town of Nantucket Natural Resources Department has organized an island-wide weekly monitoring program, partnering with the Nantucket Conservation Foundation, the Nantucket Land Bank and the Nantucket Land Council. Together we visit ponds around the island weekly, conducting visual surveys for HABs. When a HAB is seen, signs, like those below, are posted.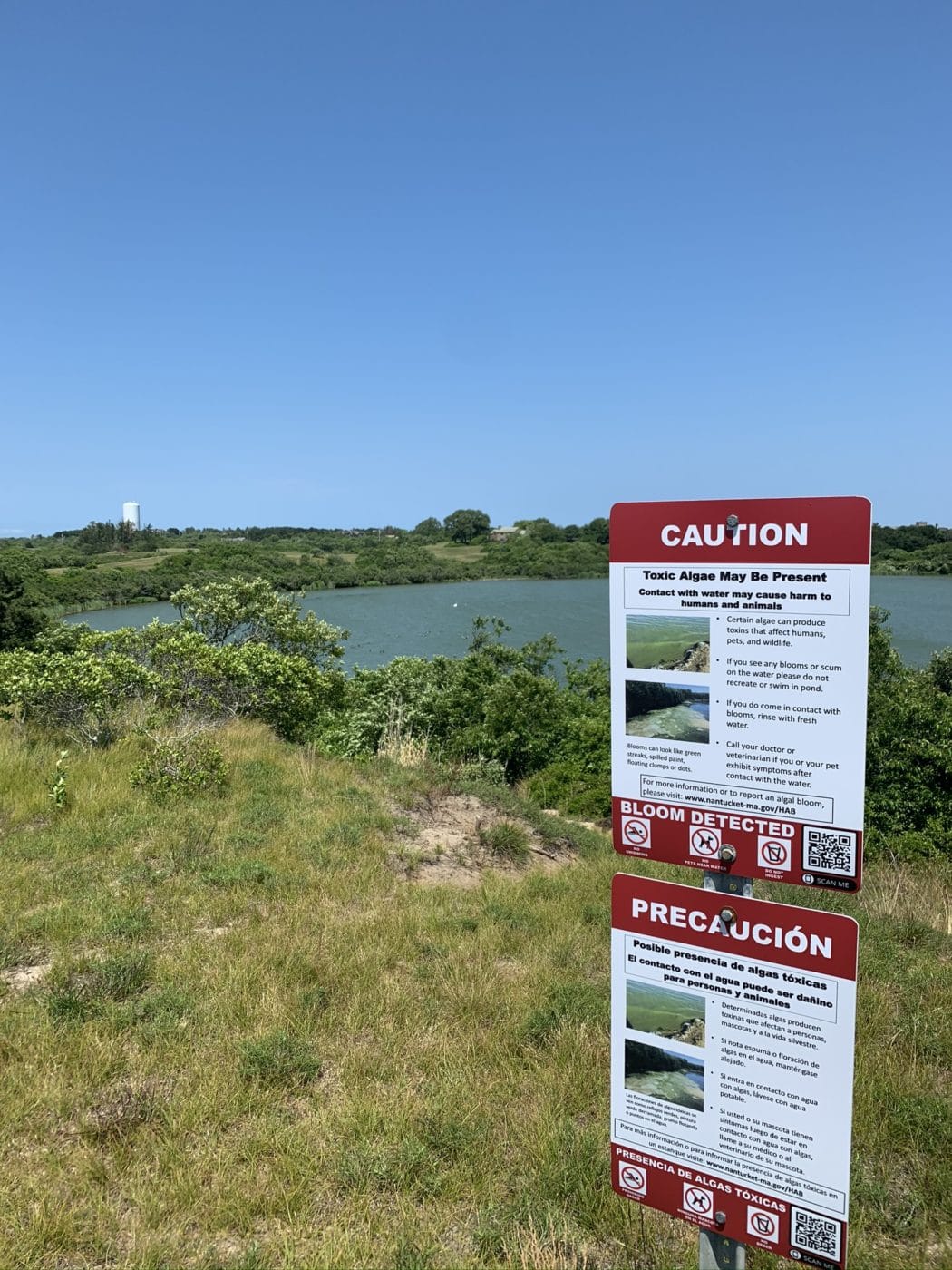 The Town is also maintaining an informational website updated weekly with pond HAB status. Check in every Thursday for updated Pond Status!
Report a HAB! Have you visited a local pond lately and seen a green color in the water or blue scum near the shore? Make a report on the Town website and someone will check it out!
So – what is a HAB? Algae itself is a natural part of the ecosystem and the base of our freshwater pond food chains. But certain algae types thrive in nutrient rich, warm water and multiply rapidly, producing harmful algal bloom. Cyanobacteria or blue-green algae are responsible for the HABs seen in our freshwater ponds. These extensive blooms are harmful to the pond ecosystem because they use up mass amounts of oxygen in the water, decreasing health for fish and other aquatic organisms.
Some types of cyanobacteria produce toxins that can be dangerous for mammals including dogs and humans. Unfortunately, its very difficult to visually tell the difference between a toxin producing algal bloom and a non-toxin producing bloom. When a bloom is present on a pond – best advice is to stay out of the water!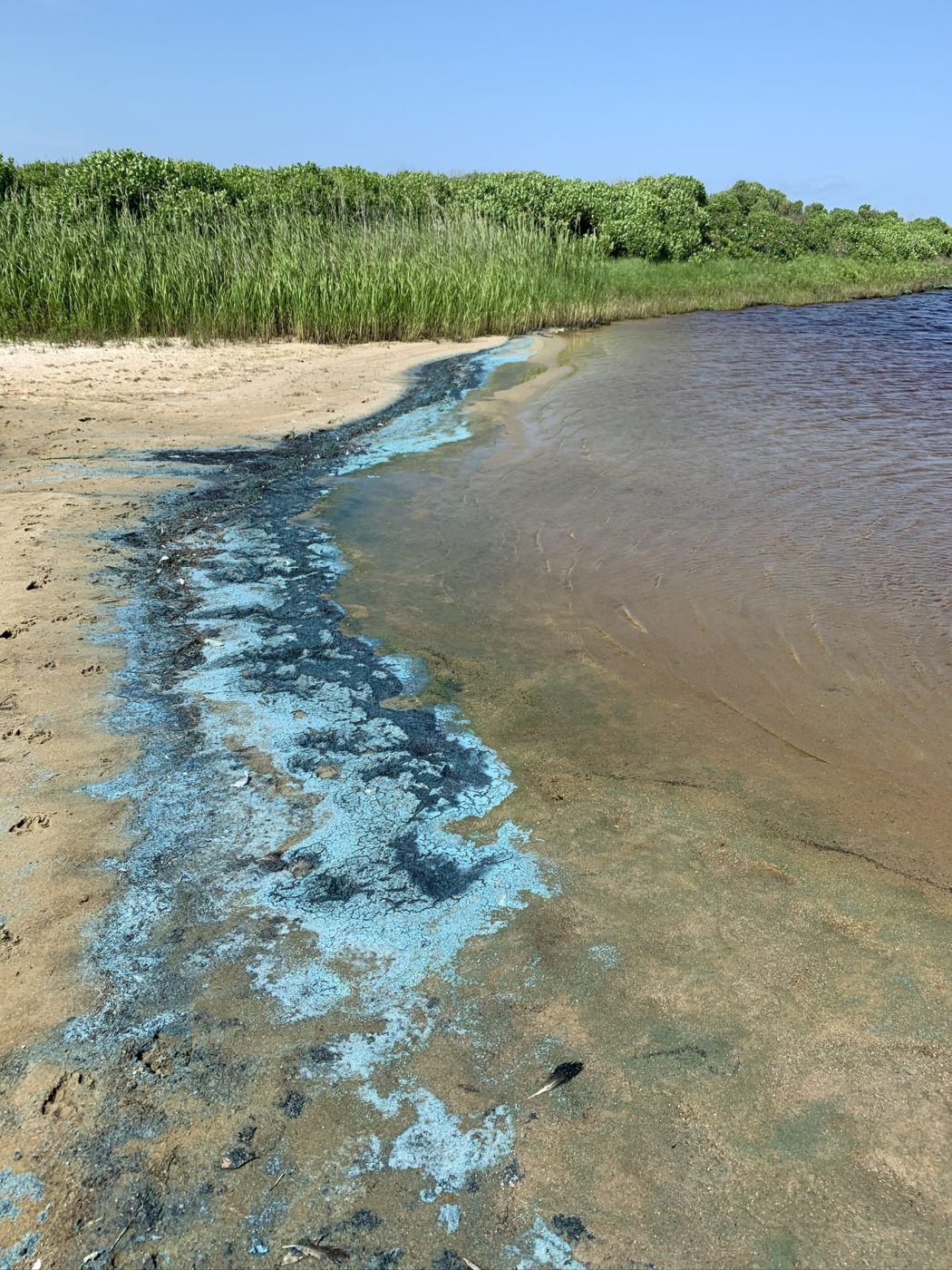 Conservation organizations on island have long been concerned with tracking the conditions that encourage algal blooms. The Nantucket Land Council, a long time advocate, has facilitated research in water quality and pond conditions around the island related to HABs. The Nantucket Biodiversity Initiative's Aquatic Threats Committee provides even more information about local HABs and comes guides for identification. has pulled together education about harmful algal blooms on island.
So as summer progresses, keep your eye open for signs of algal blooms, keep you pups out of the ponds and report anything unusual! Check back weekly to the Town's HAB website for updated information!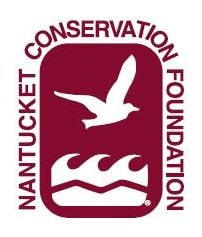 The Nantucket Conservation Foundation is a private, non-profit land trust that depends on contributions from our members to support our science projects, conservation property acquisitions and land management efforts. If you are not already a member, please join us now!  www.nantucketconservation.org