This winter, Nantucket Conservation Foundation's Science & Stewardship Research Technician/Field Supervisor Kelly Omand has been working with two students from the UMass Boston "Nantucket Semester" program that links in with our local UMass Boston Nantucket Field Station, on a focused research project in Squam. The students, Adrianna Plavetsky and Zannie Duffy, are part of a group living and studying on the island this spring semester. In addition to taking classes such as Oceanography and Nantucket Natural History, each of the students is also working on a field research project connected with a local conservation-oriented organization. The students benefit from the combo of class and lab study with outdoor research experience; at the same time, their research builds our knowledge of the island ecosystem.
The Squam area of the island is home to some of Nantucket's largest (and presumably some of the oldest trees), but the biggest and most unusual are scattered in certain parts of Squam Swamp and Squam Farm. It's a forested landscape dotted with wetlands and shaped by areas of low hills, close to the exposed northeastern shores of the island. In addition to the harsh conditions imposed by winds, salt spray, and sandy glacial soils, this area was once wide open to grazing and other agricultural uses.
To learn more about the complex interplay of environmental factors and the history of land use, Adrianna and Zannie teamed up to study the soil and the trees at two specific sites at Squam. One site is on a drier upland within Squam Swamp, and contains a number of large trees, while the other is on a hillside at Squam Farm, near our present-day sheep pastures.
Zannie and Adrianna will analyze the soil samples and trees at the two sites to add to our understanding of how tree growth, forest composition (which tree species are present), and forest structure (size, age, and density of trees per acre) may be affected by soil conditions and historic land use on the island.
Information from the Nantucket Historical Association Archives will help them determine land ownership in the past. Written and oral history accounts, and the natural history library at the Maria Mitchell Association, may add to the historical backdrop of changes in the Squam area over time.
The student research will help NCF assess forest conditions and may affect how we adapt management practices at both Squam Swamp and Squam Farm to protect these unusual woodlands for the future. Their results will complement ongoing Squam Forest research, and will provide a close-up look at two very different parts of the forest.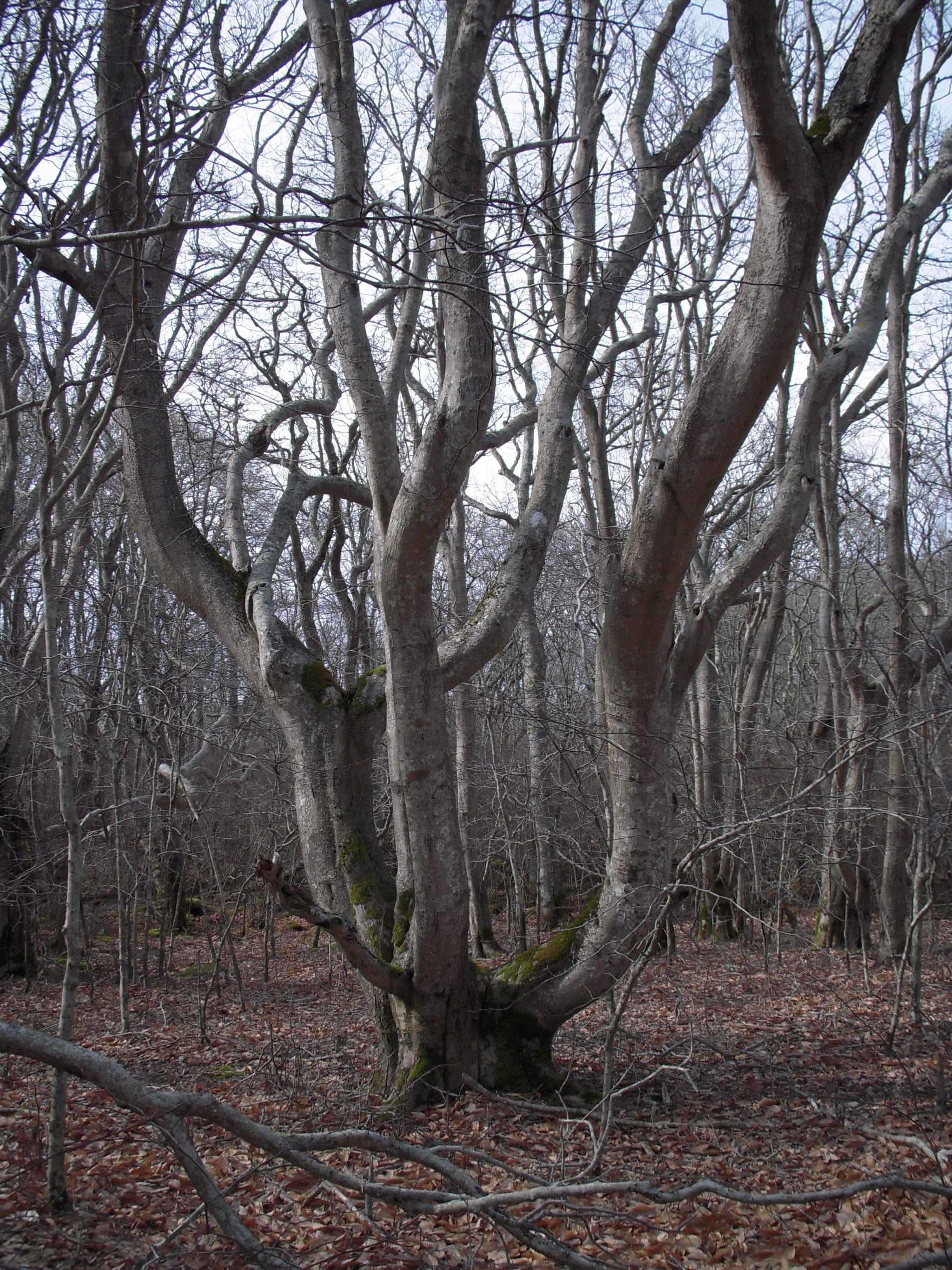 A mature beech (Fagus grandifolia) at Squam, with the shape common to Nantucket beeches–a form that may have been shaped by wind and damage to the growing sapling.For more information on the Nantucket Conservation Foundation and our projects, please visit our website.