Every year at the end of October, we at the Nantucket Conservation Foundation celebrate International Bat Week along with our batty colleagues the world over as a way to highlight the important role that bats play in nature and to counter the narrative that bats are just spooky creatures associated with Halloween.
This year, we are especially excited to celebrate bat week by officially getting back to our bat field work after several months off due to the COVID-19 pandemic. Earlier in 2020, acting out of an abundance of caution, US Fish and Wildlife Service requested that all field work in the US involving the direct handling of bats be suspended temporarily while scientists worked to resolve the question of whether our North American bats could be infected with SARS-CoV-2, the virus that causes COVID-19. Currently, the best science suggests a virus similar to SARS-CoV-2 originated in an Asian species of Horseshoe Bat. While North American bats do not carry this particular coronavirus, if they were to become infected with it by being handled by humans actively shedding the virus, what would it mean for populations of bats that are already incredibly stressed by White-nose Syndrome and other threats?
After learning what appropriate Personal Protective Equipment (PPE) could be safely used to effectively prevent the spread of COVID-19 to wildlife, MassWildlife granted us permission to resume some limited work with Nantucket's Northern long-eared bats. Following very strict protocols for human and wildlife safety and decontamination measures, we were able to once again string up our mist nets at night and begin capturing Northern long-eared bats. We got right to work and caught our first bat within minutes of setting up a net!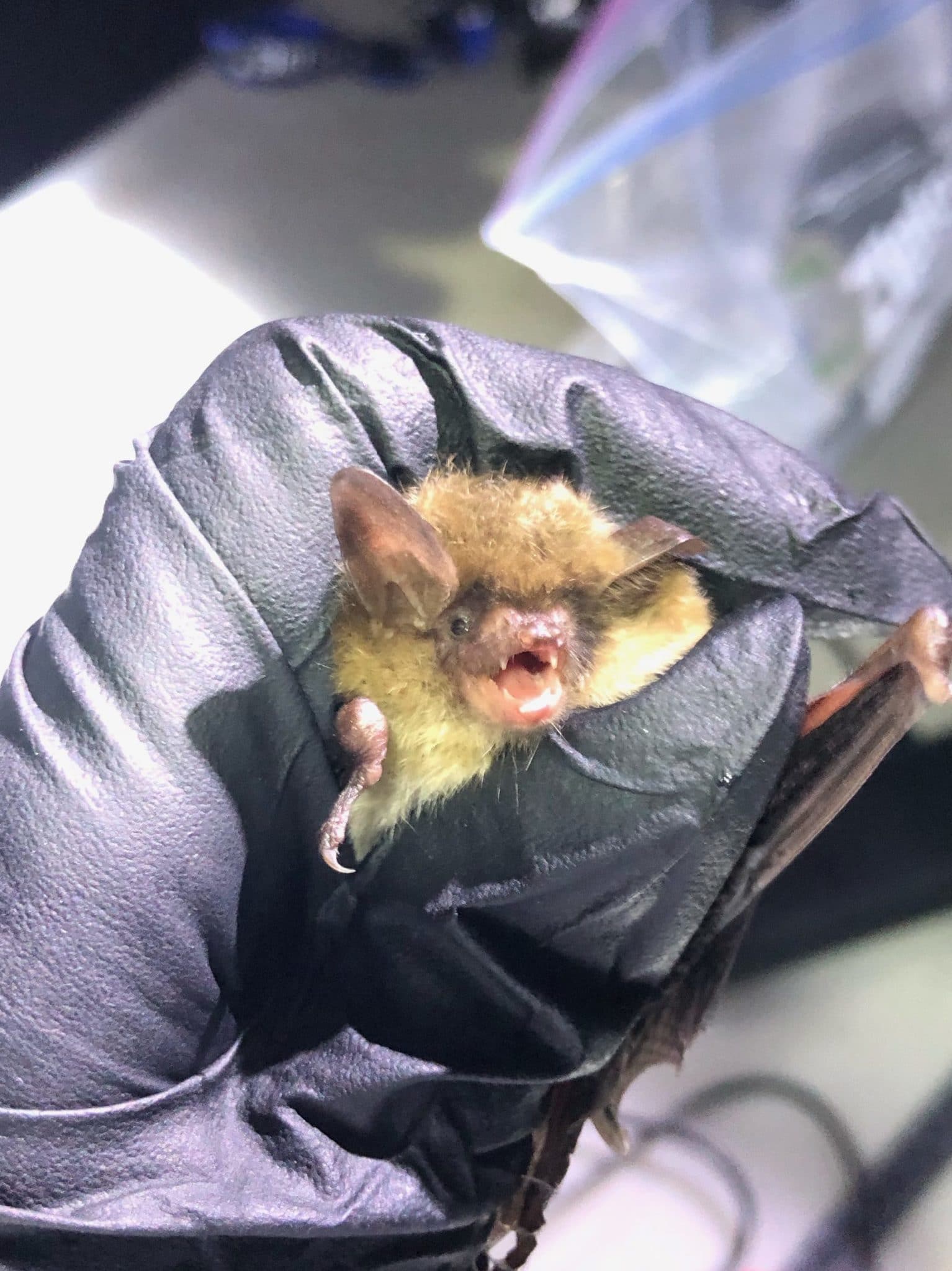 We are continuing our research along with colleagues at BiodiversityWorks on Martha's Vineyard and Samantha Hoff, PhD student at SUNY Albany to understand the behaviors of Northern long-eared bats in coastal areas of the northeast that are enabling them to persist here despite the presence of White-nose Syndrome.
Northern long-eared bats on the mainland are known to mostly hibernate in caves or mines, often with individuals of the same or other bat species. They become infected with the fungus that causes White-nose syndrome while they hibernate in the winter. The fungus damages bat wings and causes frequent arousals throughout the winter, resulting in bats spending excess energy in search of food and water at a time of year when sustenance is scarce. They burn through their energy reserves and essentially starve to death before the spring when they would normally emerge from hibernation. In coastal areas, where temperatures are milder later in to the fall, bats may enter hibernation much later in the season, and during bouts of arousal, they are more likely to be able to find water sources to rehydrate and even some winter moths or flying insects on warmer days. While our bats are not immune to White-nose Syndrome, it seems they have been able to so far persist despite infection and we believe it is due to hibernating in small, isolated groups on the island and the ability to consistently feed and drink throughout the winter to top up fat and energy reserves.
But finding where the bats are hibernating on Nantucket has not been an easy feat. We have no caves or mines on Island. In order to track down bat hibernacula, we attach tiny radio transmitters to the bats and follow their movements every day until they enter hibernation. So far, we have found a few basements and crawlspaces under houses that contain hibernating bats. We are actively on the hunt for more locations of hibernacula.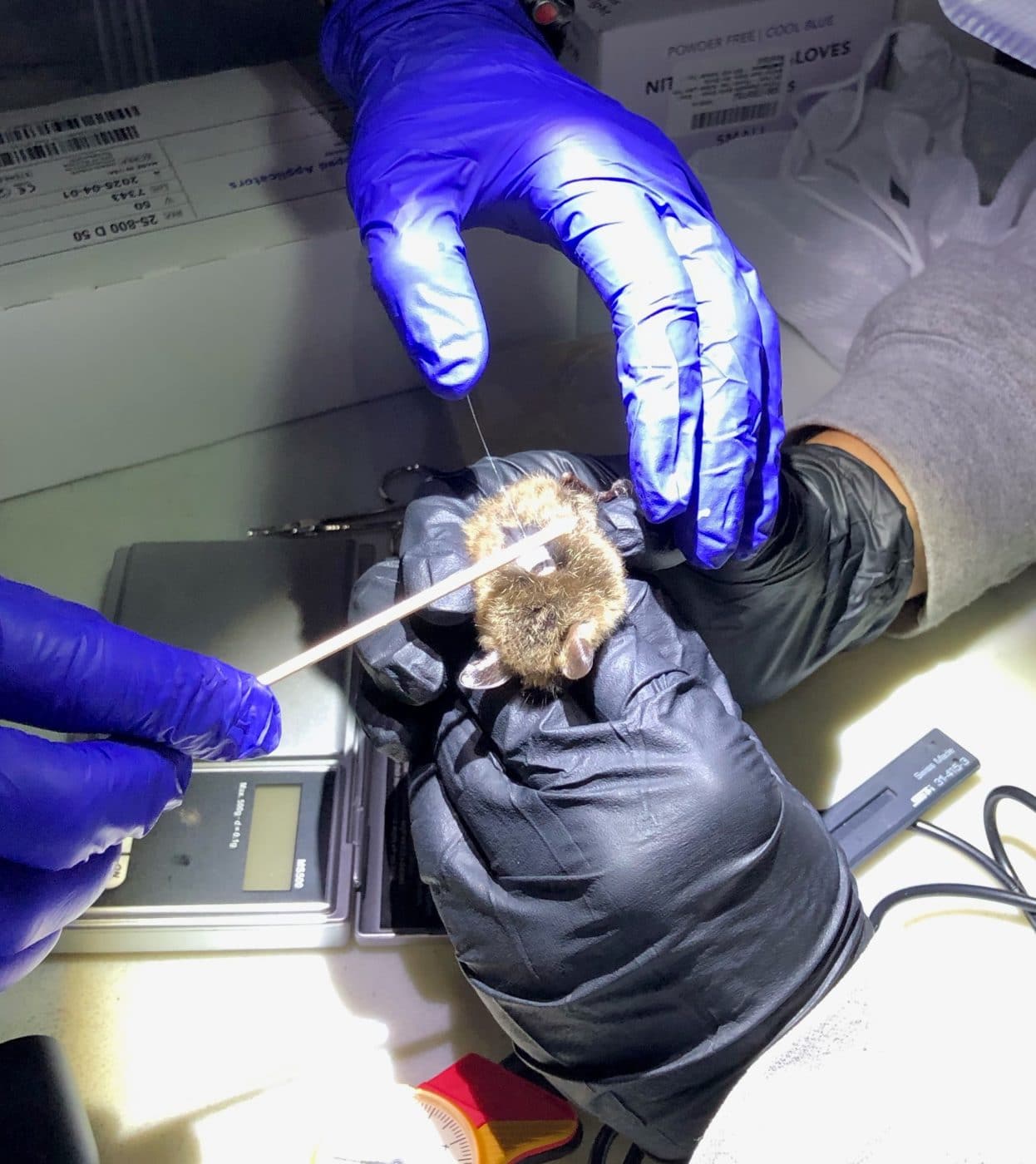 We are just getting started with our fall research – so far, we've captured 9 bats and are currently tracking 7 of them with radio telemetry. You may see us driving around with what looks like an old TV antenna sticking out of a truck window listening for a signal from a radio transmitter. Additionally, we are continuing to test all the bats we capture for the fungus that causes White-nose Syndrome and we are working with Tufts University to collect oral and fecal swabs to test for COVID-19 to ensure that our bats are remaining free from this virus. We hope to have a few more warm days in November to be able to capture more bats to follow to hibernacula.
You can help! If you have seen bats recently flying on your property, or if you have a crawl space that might be used by bats, we'd love to hear from you by emailing Danielle O'Dell at dodell@nantucketconservation.org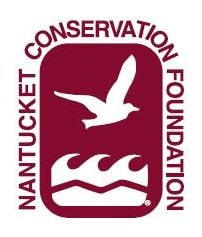 The Nantucket Conservation Foundation is a private, non-profit land trust that depends on contributions from our members and community to support our science projects, conservation property acquisitions and land management efforts. If you are not already a member, please join us now! www.nantucketconservation.org